1: Wear the earphones at the right angle
VIE FIT's case is so flexible that could fit into your ear with any angle. But the best experience can be realized only when you wear it at the correct angle.
<R side> Please check the top and bottom angle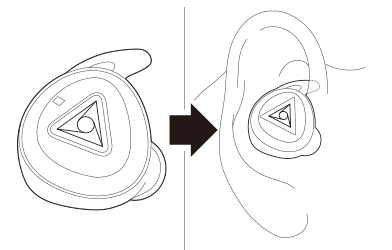 When you confirm the angle please squeeze in the earphones gently until you find the best position. The Vie Fit's softshell will conform into your ear canal.
2: Change the ear tips.
Vie Fit comes with S/M/L ear tips. Try different sizes and find the best one to fit you.
3: When earphones are too big.
Try wearing without ear tips. If your ear is too small for any of ear tips, Vie Fit can be worn without ear tips since softshell can also work as the ear tips.
4: When earphones are too small.
Try wearing the ear wings. The ear wings are designed to provide the extra hold with your ear especially with those who feel the earphones are loose.